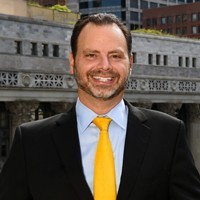 Gregg A. Garofalo
Founding Partner
Gregg has been practicing law for the past 20 years with a strong focus on probate matters and estate planning. As a father of a daughter with special needs, he is passionate about educating families on how they can achieve their estate planning goals. As a result of Gregg's vast experience, character and devotion to clients, the families he serves can rest assured that he will do everything he can to meet all of their expectations. Gregg is frequently appointed by the Court to serve as a Guardian ad litem in Guardianship matters. He is also routinely appointed by the Court as a Special Administrator in complex probate matters.
Gregg is an active member of the legal community, where he is serving or has served in several leadership roles within the Illinois Bar Association and the Chicago Bar Association. Gregg is a past Chair of the Chicago Bar Association's Probate Practice Committee, where he served two years as Chair. Gregg is also a past Chair of the Illinois State Bar Association's Young Lawyers Division, a member of the Trusts & Estates Council, and starting his third term as a member of the General Assembly after taking the mandatory one year off between terms.
Gregg serves as a member of the Illinois State Bar Association's mentor program, and a speaker in the area of probate and trusts and estates.
In addition to his passion for law, Gregg works with professional and civic organizations. Gregg has worked with the Children's Assistance Fund and the Illinois Bar Foundation chairing their annual holiday party, which has grossed over $150,000 during his ten-year involvement. Gregg is also a Past President of the Justinian Society of Lawyers, a past board member of the Italian American Political Coalition, and a board member of the Justinian Society Children's Endowment Fund. In addition, Gregg volunteers for the Central Illinois Sheltie Rescue.
Education
Chicago-Kent College of Law, Illinois Institute of Technology, Chicago, Illinois
Chicago-Kent College of Law, Illinois Institute of Technology, Chicago, Illinois
Illinois Wesleyan University
Bar Admissions
Illinois
District of Columbia
U.S. District Court Northern District of Illinois
U.S. Tax Court
Supreme Court of the United States of America
Professional associations and memberships
Illinois State Bar Association
Justinian Society of Lawyers