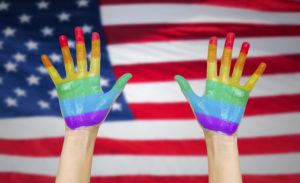 If you are part of the LGBTQ community, now is the perfect time to get your estate planning in order. You, just like every other person in our community, should plan your estate so that you and your loved ones get to decide how your assets are distributed.
Important history
On June 26, 2015 a landmark victory was won for the LGBTQ community. After a 5-4 ruling from the Supreme Court, same sex couples were granted the same rights to marriage that heterosexual couples had already been afforded.
The fight for marriage equality spanned decades of hard work from members of the community and our allies. The Human Rights Campaign, the largest LGBTQ Rights organization in the country has stated "many same-sex couples want the right to legally marry because they are in love — many, in fact, have spent the last 10, 20 or 50 years with that person — and they want to honor their relationship in the greatest way our society has to offer, by making a public commitment to stand together in good times and bad, through all the joys and challenges family life brings."
It is not surprising that all people want the chance to get married if they so choose. 
Illinois's laws of descent and distribution
Not only was this important on a personal level for gay people, it also had numerous legal benefits. The laws of Descent and Distribution in Illinois state that "if there is a surviving spouse and also a descendant of the decedent:  1/2 of the entire estate to the surviving spouse and 1/2 to the decedent's descendants per stirpes." They also state that "If there is no surviving spouse or descendant but a parent, brother, sister or descendant of a brother or sister of the decedent:  the entire estate to the parents, brothers and sisters of the decedent in equal parts, allowing to the surviving parent if one is dead a double portion and to the descendants of a deceased brother or sister per stirpes the portion which the deceased brother or sister would have taken if living."
LGBTQ and the legal implications
For gay people whose partnerships were not recognized by the eyes of the law, these stipulations had dire consequences. Imagine, prior to 2015, you and your same sex partner had been together for decades. You'd had a commitment ceremony and built a life, home, and family together. However, in the event of your death, legally, your partner would not have been able to claim the inheritance that a heterosexual spouse would be automatically entitled to.
Suppose you had considered this unfortunate reality and already had an estate plan in place to benefit your partner. Even in this case, you could still find yourself in the face of obstacles. For instance, there is a federal estate tax in the United States, and it carries a hefty 40% maximum rate.
The estate tax can be applied on asset transfers to anyone, regardless of the relationship, with one exception. This exception is an unlimited marital estate tax deduction that allows you a money transfer to your spouse free of taxation.
Ever hear of Edith Windsor or Thea Spyer?
Take for instance the case of a New York woman named Edith Windsor who married her partner, Thea Spyer, in Canada in 2007. In 2008 a piece of legislation was passed, and that marriage was also legally recognized in New York. About a year later, Spyer passed away, and left a considerable estate to her spouse. Windsor tried to use the unlimited marital deduction, but the Internal Revenue Service refused to accept her contention that she was married. They cited a provision in the Defense of Marriage Act that defined marriage as only between man and woman. She was forced to remit more than $360,000 out of the inheritance to pay the estate tax.
The fight for legal recognition has spanned decades
The fight for legal recognition of our relationships has spanned decades. This involved major court cases, and thousands of individuals actively fighting for their rights and the rights of their loved ones. This fight led to the groundbreaking case of Obergefell v. Hodges in which "groups of same-sex couples sued their relevant state agencies in Ohio, Michigan, Kentucky, and Tennessee to challenge the constitutionality of those states' bans on same-sex marriage or refusal to recognize legal same-sex marriages that occurred in jurisdictions that provided for such marriages. The plaintiffs in each case argued that the states' statutes violated the Equal Protection Clause and Due Process Clause of the Fourteenth Amendment.  And one group of plaintiffs also brought claims under the Civil Rights Act. This case made it to the supreme court. As a result, same-sex marriage is legal on a federal level.
Now you may ask: why the history lesson? I was just coming here to learn about potential estate planning as a member of the LGBTQ community.
This post just skims the surface of that history, and there are many excellent resources with a fuller timeline. But in order to best serve the LGBTQ community, it is important to understand their rich history. Estate planning is such a personal affair, and you should feel completely comfortable with the attorney of your choice. While same sex marriage is now legal, homophobia remains an issue.
Garofalo Law Group is proud to be a safe space for the LGBTQ community.  We strive to provide a comfortable environment and to create the best plan for you and your family. Click HERE to contact our firm so that we can get started working for you.